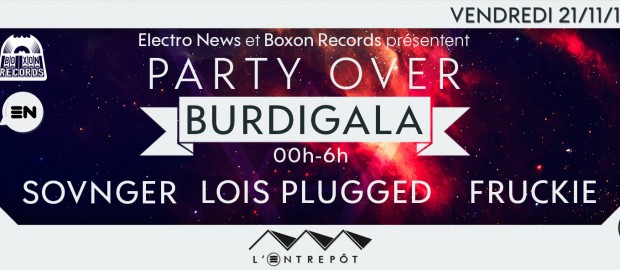 Electro News et Boxon Records sont très heureux de vous proposer leur 1ère soirée en collaboration : PARTY OVER BURDIGALA.
A projet nouveau, club nouveau. C'est pourquoi nous avons choisi pour accueillir cette première soirée l'Entrepôt, nouveau pôle central de la musique électronique et de la nuit bordelaise.
La soirée sera placée essentiellement sous le signe de la techno avec Sovnger, valeur montante de la techno française, qui sera accompagné des talentueux artistes bordelais Lois Plugged et Fruckie.
▬▬▬▬▬▬▬▬▬▬▬▬▬▬▬▬▬▬▬▬▬▬▬▬▬▬
◙ Artistes
▬▬▬▬▬▬▬▬▬▬▬▬▬▬▬▬▬▬▬▬▬▬▬▬▬▬
× Sovnger
Avez-vous déjà rencontré un somnambule hyperactif ?
Son premier EP, sorti sur le label d'Alex Gopher, playlisté par les plus grands (Justice, Boys Noize, Busy P…) a même sa place dans le set des 2ManyDjs lors de leurs fameuses Soulwaxmas ! Sovnger enchaîne depuis les remixes (Alex Gopher, the Aikiu, Sharam Jey, Shindu…), collabore avec certains artistes comme The Subs et sort régulièrement des EP sur des labels tels que Bad Life Records (le label d'Autokratz), Blood Music (le label de Fake Blood), OMGITM Records, Boxon Records…
Sovnger ne dort jamais et vient de terminer son premier album ! Sortie prévue pour fin 2014 sur le label Police Records.
Préparez-vous à une claque dont vous vous souviendrez.
Sovnger (website)
Sovnger (Soundcloud)
× Lois Plugged (Boxon Records)
Loïs Plugged (Soundcloud)
× Fruckie (Boxon Records)
Fruckie (Soundcloud)
▬▬▬▬▬▬▬▬▬▬▬▬▬▬▬▬▬▬▬▬▬▬▬▬▬▬
◙ Infos pratiques
▬▬▬▬▬▬▬▬▬▬▬▬▬▬▬▬▬▬▬▬▬▬▬▬▬▬
× 00h-6h
× Préventes avec Yuticket : 8 euros Lien Internet
× Sur place : 10 euros (CB autorisée).
× Soirée réservée aux plus de 18 ans
× N'hésitez pas à jeter un œil à la page du club :
L'Entrepôt Club
▬▬▬▬▬▬▬▬▬▬▬▬▬▬▬▬▬▬▬▬▬▬▬▬▬▬
◙ Partenaires
▬▬▬▬▬▬▬▬▬▬▬▬▬▬▬▬▬▬▬▬▬▬▬▬▬▬
× Feather