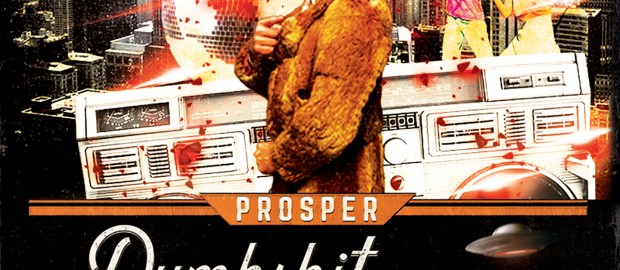 #BOXON066 TRACKLIST
1. You're Gonna Burn – Prosper & Adam Polo
2. Dumbshit Masterplan feat. Ira Lee (Loïs Plugged & Fruckie Remix) – Prosper & Rimshot
3. Prince Is Not Dead feat. Woodhead (Zebra Remix) – Prosper & Azaxx
4. Dumbshit Masterplan feat. Ira Lee (DJ Moule Motherfunky Remix) – Prosper & Rimshot
5. Fric Freak (Qdup Remix) – Prosper & Adam Polo
6. Dumbshit Masterplan feat. Ira Lee (M.Burns Remix) – Prosper & Rimshot
(P) & (C) 2016 Boxon Records, published by Humaine Box.
— Communiqué de presse —
Après le très remarqué « Return To Disco Street (EP) », Prosper est déjà de retour pour notre plus grand plaisir avec « Dumbshit Masterplan (EP) » : deuxième titre extrait de l'album éponyme – ce dernier étant prévu en fin d'année sur Boxon Records. La Funk avec un grand « F » y est ici disséquée !
L'inédit « You're Gonna Burn », en collaboration avec Adam Polo, sonne d'emblée comme une révérence à l'irrésistible electro-funk de Tiga. L'originale « Dumbshit Masterplan » a été composée en collaboration avec Rimshot, ex-Interlope, où s'illustre Ira Lee avec son flow racé – lui-même connu pour ses collaborations avec Rubin Steiner ; et ce n'est pas le remix par Loïs Plugged & Fruckie, avec son groove implacable et racé, qui va calmer les esprits !
DJ Moule, un des rois du bootleg made in France, nous offre un pur moment Funk 70's et convoque ainsi pour sa jam session les esprits de Chic et Rick James, réalisant ainsi un mariage parfait entre passé et présent !
Zebra, maître incontesté de la Bastard Pop, nous projette trente ans en arrière avec sa relecture 80's de « Prince Is Not Dead feat. Woodhead » ! Il s'agit en effet d'une triste coïncidence, écoutons alors la musique.
Qdup, membre éminent de la formation américaine Fort Knox Five, ramène dans le droit chemin tout les break dancers égarés grâce à sa refonte de « Fric Freak » : nul doute, nous allons retrouver des traces de semelles sur le dancefloor.
Nous sommes ensuite projetés dans la culture hip-hop avec le « Dumbshit Masterplan (M. Burns Remix) » dont la production léchée aux relents de bass music nous trimballe entre une Pool Party de la West Coast et les toilettes d'un club londonien !
Cet EP, aux vibes old-school mais à la forme résolument moderne, est un hommage à la culture black colonisée par les machines ! L'album de Prosper promet d'être à son image, c'est à dire varié et généreux !
— Press release —
After the acclaimed « Return To Disco Street (EP) », Prosper is already back for our greatest pleasure ! Be ready for the « Dumbshit Masterplan (EP) » : second title extracted from the eponym album to be released at the end of the year on Boxon Records ; the Funk with a big « F » is being dissected here !
The exclusive track « You're Gonna Burn », in collaboration with Adam Polo, sounds just like a tribute to the irresistible electro-funk made by Tiga. The original « Dumbshit Masterplan » has been composed with Rimshot, ex-Interlope, featuring Ira Lee and his strong flow ; and it's not the remix made by Lois Plugged & Fruckie, with its implacable and distinguished groove, that is going to let cooler heads prevail !
DJ Moule, one of the kings of « made in France » bootlegs, is offering us a pure moment of Funk from the 70's and summons for his jam session the spirits of Chic and Rick James, realizing then the perfect match between past and present !
We are brought again into vintage music with Zebra, uncontested master of the Bastard Pop, who is projecting us thirty years in the past with his reinterpretation of « Prince Is Not Dead feat. Woodhead », giving us pure 80's candies !
Qdup, member of the american band Fort Knox Five, brings back on the right track all the lost break dancers thanks to his reshaping of « Fric Freak » : no doubt, we are going to find shoe prints on the dancefloor.
We are then definitely being projected in the hip-hop culture with the « Dumbshit Masterplan (M. Burns Remix) » which the well polished production with hints of bass music is moving us between a Pool Party of the West Coast and the toilets of a London club !
This EP, with old school vibes and a resolutely modern form at the same time, is an encomium to the black culture colonized by the machines ! The album by Prosper promises to be just like himself : varied and generous !
— Soutiens —
Marten Horgen (Funkanomics – Allemagne)
So Tight, so Funky.
The white James Bond does it again
I love « You're gonna Burn » and the Zebra Mix of « Prince Is Not Dead »
Mooqee (Bombstrikes -Uk)
Great Ep !
Really love « You're Gonna Burn » you're really hitting that modern disco vibe so well !
Seb de Stereoheroes (France)
C'est bien bon tout ça,
Je kiffe bien le remix de Moule !
Jayl Funk (Germany)
Hello bro, thanks again for sending me this release. i checked it now. I got this already as promo from Boxon and i played already the Moule Motherfunky Remix. I like this a lot! The original version is great to and your collab with Woodhead is awesome, as well!!!
Yeap, the Moule Motherfunky Remix sooo fucking DOPE!!
I will add it tomy nexxt promo mix!!
Johnny Bionic (Radio Pulsar – Poitiers)
Le remix de Lois Plugged & Fruckie va rentrer dans la prog nightclub !
Nico (Tambour Battant / Marseille)
Le Zebra remix est dingue, énorme j'adore
Nico (Redux – Nantes)
J'aime vraiment le Dunbshit DJ Moule Remix, c'est pas vraiment ce que je joue mais j'aime bien,
j'aurai surement l'oscar de le placer, au moins l'écouter à dont dans la voiture.
Marco Kabble (BassDay – Bordeaux)
Super E.p bien funky, bien fresh.
Je les aime bien tous, mention spéciale tout de même à « l'hommage » à Prince remixé par Zebra.
Loo & Placido
c'est le Dumshit Masterplan Lois Plugged & Fruckie Remix que je préfère. J'avais découvert Ira Lee via Rubin Steiner et je trouve que sa voix marche bien avec titre. J'aime bien aussi le petit clin d'oeil au Teachers des Daft sur le Fric Freak (Q-Dup Remix).
Hanky Panky (Blood Party – Paris)
Yo Mr 70's
bah j'ai écouté , et euuh comment dire , euh je voudrais pas te vexer , ou que tu prennes la grosse , mais euh , hmmmmmmm , j'arrive pas a trouvé les mots ….. comment t'expliquer …. vu que je sais pas dessiner des images ca ne servirait a rien ….. AH si j'ai trouvé : j'adoooooooooooooooore !
Fanfara Electronica (Global Hybrid Records – Bruxelles)
je kiffe, vraiment bien le côté acid lent méta funk, je ne sais plus trop comment dire…mais je vote pour !
Vive You're Gonna Burn.
Fedorovski (Loulou Records – Russia)
Thanx a lot! love your funky style !!!
You're Gonna Burn is my fav and I'm playing in my sets.
The other your sounds i'm playing at the preparties in bars,
When i'm play funky, disco music, its just perfect!
Suis Prosper sur Facebook www.facebook.com/Dj.Prosper/
ainsi que le label www.facebook.com/boxonrecords/