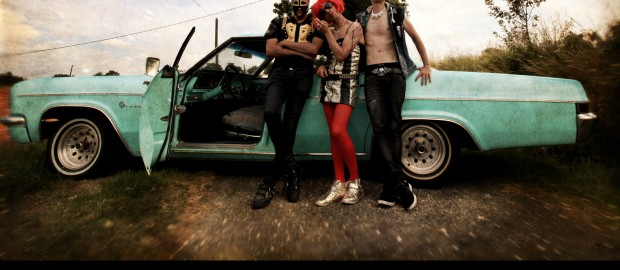 Le single Death Race #AF28  est disponible sur :
(Click to buy)
Ci-dessous, le Clip officiel du morceau « Death Race » :
(FR)
Le Catcheur, La Pute et Le Dealer? Un show explosif né d'un cocktail post érotique boosté à la testostérone de Lucha Libre et relevé d'autodérision punk. Le trio élabore un son électronique qui tabasse (Trap/Drum/Electro/Dubstep…) associé à une culture Rock/Hip- hop ayant digéré le meilleur des 50 dernières années, des Rolling Stones à SOAD en passant par Cypress Hill ou Die Antwoord.
Sur scène, ces trois personnages loufoques nous plongent dans leurs aventures les plus burlesques : Poursuites zombies, hallucinations orgiaques, combats de gamers ou prestations de diva sont un prétexte à des jeux interactifs entre les trois énergumènes et leur création vidéo originale.
Un Catcheur addict au slam, une Pute du 3ème type et un Dealer les poches pleines d'images illicites qui n'ont d'autre objectif que de vous plonger dans un spectacle Brutal , Suave et Scandaleux !
(UK)
« Le Catcheur, la Pute et le Dealer » is an explosive show which was born from a post-erotic cocktail, boosted by the Lucha Libre testosterone and raised by punk self-moquery. Associated with a rock/hip-hop culture which has been shaped by the best of the 50 last years, from the Rolling Stones to SOAD, passing through Cypress Hill or Die Antwoord, the trio creates an electronic sound which strikes (Trap/Drum/Electro/Dubstep…).
On live, these three crazy figures bring us in their comic adventures : zombie pursuits, orgiastic hallucinations, gamers' fights or diva's shows are a pretext to interactive games between the three crazy persons, and to their original video.
A slam addict wrestler, a strange whore, and a dealer of illicit images who only want to drown you into a brutal, smooth and scandalous show !