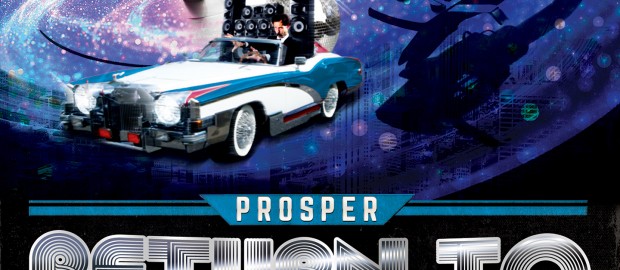 ref : Boxon064
Artist : Prosper
EP : Return To Disco Street
(P) & (C) 2016 Boxon Records, published by Humaine Box.
TRACKLIST :
1. Return To Disco Street feat. Woodhead w/ Rimshot (Club Mix)
2. Return To Disco Street feat. Woodhead w/ Rimshot (Lazy Flow Re-Funk Remix)
3. Return To Disco Street feat. Woodhead w/ Rimshot (Greenblood Remix)
4. Fric Freak w/ Adam Polo (Original Mix)
5. Return To Disco Street feat. Woodhead w/ Rimshot (Lazy Flow Re-Funk Instrumental Mix)
Mastering by Nu.broduction
Artwork & Teaser by Upyourarts
Communiqué de presse :
Boxon Records a le plaisir de vous présenter « Return To Disco Street », le premier extrait du formidable album « Dumbshit Masterplan » de l'artiste Prosper, à paraître très bientôt.
«Return To Disco Street» est une ode au groove de la fin des 70's métissé aux sons urbains actuels. Un mélange alchimique savoureux entre House, Funk, Electro et Minimal.
Pour mener à bien sa mission, Prosper s'est allié au talentueu Rimshot (ex-moitié d'Interlope)  afin de produire le titre éponyme ! La voix à la fois sensuelle et veloutée est assurée par Woodhead, originaire de Vancouver et avec à son actif de jolis maxis déjà sortis sur Clyphs et Homebreakin'.
Le Club Mix – avec sa rythmique droite et percutante, sa ligne de basse dodue, son Moog acide et addictif – est une machine à danser que n'aurait pas reniée la French Touch des débuts.
Les remixes ne déméritent pas ! Lazy Flow nous offre une croustillante relecture Funky (en deux édits), tandis que le duo Greenblood (alias Konix & Jedsa) navigue dans une techno hypnotique et puissante.
Sans oublier le morceau «Fric Freak» qui joue un peu plus la carte Electro Funk tout en insufflant une rengaine Hip-Hop à cette excitante collaboration entre Prosper et son compère Adam Polo.
Un maxi qui donne envie d'écouter l'album prévu d'ici peu. Vite, on a hâte !
Press release :
«Return To Disco Street» is the first extract of the amazing album «Dumbshit Masterplan» by Prosper, to be released quite soon.
«Return To Disco Street» is an ode to the groove from the end of the 70's mixed with the urban sounds of today. An alchemical and delicious blending between House, Funk and Electro. In order to accomplish this mission with success, Prosper has been collaborating with the talented Rimshot (ex-Interlope).
The voice, sensual and smooth at the same time, is performed by the Canadian Woodhead.
The forceful Club Mix with his plump bassline and acid Moog is a dancing machine. And the remixes have nothing to be ashamed of ! Lazy Flow is offering us a spicy and funky review (in two edits), while the duo Green Blood (alias Konix & Jedsa) is navigating in a hypnotic and powerful techno.
Without forgetting the song «Fric Freak» which sounds more like Electro / Hip-Hop with Adam Polo.
Ready, steady, go !
Soutiens:
Elisa Do Brasil (Paris)
C'est très bien tout ça !
Basement Freaks (Jalapeno / Germany)
I Love them all, hot boogie !!! Sound dope brother ! I'm getting the promo now !
Barry Ashworth (Dub Pistols / UK)
I like What I'm hearing, I would play these all day long ! Club Mix Is Dope !
A Skillz (UK)
« That's the funky shit ! » Thanks mate !
Ashley Slater (Freakpower / Kitten & The Hip – U.K)
It sounds Great ! The Club Mix is perfect !
Pimpsoul (Bombstrikes – Australia)
Dude This Is Great, Club Mix and Lazy Flow Remix are Awesome ! This is The Sort of Housey Stuff I love To Play.
Dj Moule (Hello Bye bye – Angoulême)
Le Club Mix est mortel, bien funky !
Lars Moston (Kateermukke / Suara – Germany)
Cool funky stuff, Lazy Flow Remix is my fav. Full support !
Cat's Eyes (Wax Taylor – Fr)
Il est drôlement bien le Club mix, belle architecture, subtile, efficace, très beau mix de l'espace. Parfait pour que je le joue et improvise en flûte funky par dessus pour un prochain mix.
Aurelio Cianciotta (Wicked Style)
Big up for the Greenblood Remix. 10/10
Eric Labbé (Zig Zag Club / Paris)
C'est vachement bien et funky pumpy, j'ai bien aimé le Fric Freak avec Adam Polo.
Pablo Decoder (Germany)
The Club Mix, very nice track and sexy drums, the ending is very cool with the synth !!! 10/10
Frederic De Carvalho
Nice grooves, Greenblood Remix and « Fric Freak » for me!
Sir Sway (Electro-Swing.com / Suisse)
J'adore Le Club mix, c'est tout à fait mon style, subtile alliage de Funk et Future Beats, ça groove et ça fait danser ! Je dis bravo !
Leonard De Leonard (Leonizer records – Berlin)
Du bon gros Prosper, Return to Disco Street Club Mix est TOP ! Les remixes sont cools aussi.
Dubplates.co.uk (Germany)
Wow! Welcome back to the 80's, Mr. PROSPER is a well known french, Paris based artist, in the International / European club scene. I love all the stuff before « Return to the Disco Street », and on this new EP you can listen to where Prosper is coming from, the funk! For me, it's one of the best and high quality produced EPs this year, I love the Club Mix, it's a bit like Miami Electro bass with that piece of French funk, the cake needs! I also like Fric Freak with Adam Polo, and the Remix by Greenblood. Five stars for this HQ EP. A floor filler, and long time stay in my record box! Funk you very much for this EP.
Chico (Tambour Battant – Marseille)
Mon titre préféré est le Club mix, funky à souhait !
StereoHeroes (Fr)
Le Club Mix est bien ficelé, une touche old school avec juste ce qu'il faut pour rentrer dans la danse sans en rajouter ! Et oui on aime beaucoup la Soul/Funk ! Mention spéciale pour le « Lazy Flow Re-Funk Remix ».
Sangers & Ra (Big Bass Party Radio Show / Australia)
Big early call but this may be the funkiest beat to be dropped in 2016. Love the grooves, and Club Mix is my fav.
Omegaman (Fort Know Five Recordings / Australia)
It's a Killer, I'll play it this next weekend at the Summer Vibes Party. The Club Mix is a really nice one !
Ma Public Therapy (Paris)
J'aime beaucoup le Remix de Lazy Flow, je le jouerai à ma prochaine soirée.
Stabfinger (Italia)
ça le fait carrément en mode Disco House, Le Club Mix c'est le meilleur !
Rory Hoy
My favorite is the Club Mix. Another strong release from my man DJ Prosper! 8/10
Dorian Parano (Paris)
ça groove grave cet EP, j'aime beaucoup la voix du chanteur. Le Club Mix est mon préféré, et j'aime bien aussi le Remix de Greenblood assez minimal.
Fonkynson (Lisbon Lux Records – Quebec)
Le Club Mix : j'adore ! Quand ça sonne un peu disco, oui tu as mon attention !
Jayl Funk (Honkey Phonk – Germany)
I have checked your new release. I like the danceable disco vibes on it. I will definitely play the « Lazy Flow Re-Funk Instrumental Mix ».
Benjamin Vial (Death Proof Records – Paris)
Il y a des la bonne funky basse sur le Club Mix, mais mon préféré est le Greenblood Remix. ça sent bon la House de Chicago ! 8/10
Paul Brisco (Worldwide Festival / Sète)
Le Club Edit est bien groovy, ça balance bien ! Le Lazy Flow Remix est top aussi : quelle bonne idée ce sample de gratte !
Le Fric Freak, je le joue de temps à autre : très efficace ! Et voilà 2 bons tubes qui vont rentrer dans ma playlist !
Badboe (Breakbeat Paradise – Danemark)
I like the Club Mix, it's the most funky ! The other tunes sounds really professional too. It's well produced. I put a 8/10 for the club mix !
Breaks Lda
My favorite is the Club Mix. Nice one. 7/10
Crashgroove (Breakbeat Paradise / Bulabeats – UK)
Very cool EP ! I love The Club mix, and the Lazy Flow Remix.
Lecomte de Brégeot
Un bel EP où les couleurs disco se mélangent à merveille aux sonorités électroniques.
Kiwistar (Paris)
C'est du lourd cet EP ! Ce sera playlisté, le Club Mix est mon préféré, la basse sur-boîte !!! Je mets un bon 8/10
CMC & Silenta (Roca Records – Germany)
This is a good one ! Love the Fric Freak tune and the Club Mix. Funky House is what we need, more than EDM world ! Big shot from Prosper !
El Dirty Sonidero (Moisiland / Sonore Libre Production)
Du bon son propre sur les morceaux, travail soigné. Le Club Mix est cool, mon préféré est le « Lazy Flow Re-Funk Remix ».
Larry Tee
The « Lazy Flow Re-Funk Remix » is a hot one !!! 9/10
N'Zeng (Goldmin Music – Paris)
L'EP « Return to Disco Street » est la meilleure façon de démarrer ce début d'année 2016 ! Oubliez la morosité de 2015 et place à la disco tout en maitrise de notre ami Prosper qui a passé un cap significatif dans la production. Cet EP risque de faire sérieusement transpirer sur le dancefloor. Mention spéciale au « Re-Funk Instrumental Mix de Lazy-Flow ».
Zamali
Nice one, I dig the Club Mix and Fric Freak. Big up ! 7/10
Guillaume (LeMellotron.com)
C'est bien fait, je préfère le Club Mix.
Mustabeat (Budapaest – Hongrie)
So I have listened it during the afternoon and my smaller kids requested reaper a few times ! Club Mix is the one for me ! Classic funky breaks in the disguise of recent time ! Perfect combination !
Quincy Jointz (Goodgroove Records – Australia)
Good new EP, I dig it. My fav is the Club Mix. Congrats !
Jay Qdup
Quality Disco house and funk. The « Lazy Flow Re-Funk Remix » & Fric Freak both really doing for me. Solid all around. Thanks for the instrumental on Lazy Flow Re-FUnk as well. Can see using that in our four deck set w/ an apace. Really nice jams, will play these. 10/10
Terry Hooligan (Atomic Hooligan – UK)
Nice EP ! I like The Mix between Electro and Funk. Good Stuff ! Greenblood Remix is my fav.
Craig Lounders (Raise Recordings – Fr)
J'aime bien, c'est bien groovy je prends pour mes dj set. Le Remix de Lazy Flow est mon préféré.
Gimix Nomad (Sideshow / Electroswing.com – Vietman)
De La Bombe Papa ! ça joue ! Fric Freak est super bien. Le Club mix reste mon préféré, c'est un vrai régla de voir la basse de Prosper résonner l'appel du Disco Fever et friser les moustaches sur le dancefloor !
Pallace (Paris)
Je suis très agréablement surpris par le niveau de pros. Je trouve le Club Mix très intéressant, ça le fait bien. 7/10
BlondineTheMix (Formule Records – Paris)
Le Club Mix du Return To The Disco Street est une bombe, qui me projette, comme son titre l'indique, en pleine période disco. Il ne me manque que le sol lumineux pour danser comme John Travolta, grosse basse, grosse prod, c'est si funky qu'on est obligé de se trémousser. Le Remix « house filtrée » par Lazy Flow, et celui « minimale berlinoise » par Greenblood, sympa. Il y en a pour tous les goûts, c'est propre, c'est cool. Le Fric Freak m'a mis le smile dés les premiers accords, production puissante et funky, les voix androgynes et sensuelle me font décoller, haha je kiffe ! ça danse direct et ça smile direct !!!!!!! 10/10
DJHALOUF (La Charcuterie Musicale – Paris)
Le Club Mix est mon préféré, j'ai grandi dans les quartiers avec la Funk et Le Disco et ça fait plaisir de voir ce style musical continuer à nourrir mes oreilles ! Le travail sur les voix est super bien dosé ! Je mets un 11/10.
DJ Spoilt Bastard (Montpellier)
Mon track préféré de tous est le Fric Freak avec Adam Polo. Ensuite pour le « Return To The Disco Street », c'est la version Club Mix!
Tom Selekt (Formule Records – Bordeaux)
Bien cool le Club Mix, je kiffe le côté joué de la basse ! L'arrangement d'une manière générale est plutôt cool, le mixage bien propre, l'idée est fun de toute façon.
Mr Magnetix (Le Catcheur et la Pute – Toulouse)
C'est bien cool et varié dans le groove, j'aime bien les voix aussi.
Dj Nego (Tours)
Je trouve que le Club Mix est celui qui pète le plus, le kick est discret mais puissant, le groove au rendez vous et la construction est évolutive et soignée esthétiquement. Typiquement le genre de track que j'aime jouer. Voilà encore du bon boulot !
Patrick Dada (Paris)
Prod parfaite, les sons sont bons, belle ligne de basse et petit arrangement glitch que je trouve intéressant.
Le Greenblood Remix est top ! Il est bien Hot in The Basement.
Le Fric Freak avec Adam Polo est bien jump up ! J'aime bien…
Donc en résumé la meilleure version c'est le club Mix car la basse est super… Et la version « vient faire un tour dans la cave » de Greenblood.
Radio Panik (Belgium)
Ok merci j'avais déjà reçu. Je verrai pour diffusion car je reçois beaucoup trop de trucs calibrés comme ça et suis plus enclin à des couleurs et dynamiques plus douces, plus ouatées pour l'émission »Cntrbnd''. Et mon disque dur est déjà bien rempli niveau 120-128 BPM ^^ Embouteillage … On fera au mieux si possible ^^