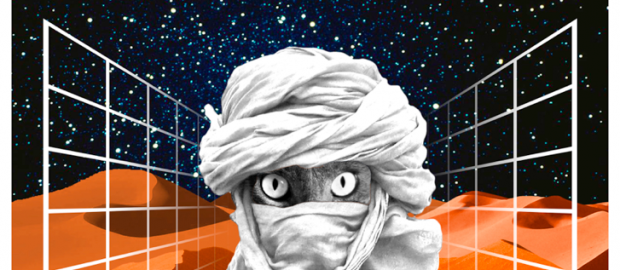 TRACKLIST
L'EP « Sahara » #Boxon047 est disponible sur :
(Click to buy)
Le « Sahara » EP (ref. Boxon047) sort le 2 décembre sur Boxon Records. Et un EP de remixes des originales est déjà en préparation, avec la confirmation de remixeurs de talent. Nous vous donnerons prochainement plus de détails, en attendant nous vous souhaitons une belle dance avec SMITECH WESSON !
Désert du Sahara, 2056. Les machines ont pris le contrôle de l'humanité. Une nouvelle forme de vie cybernétique, les andromorphes, des robots humanoïdes polymorphes dirigent la Terre à l'insu de la majorité de l'espèce humaine. Au fin fond du désert du Sahara, une faction rebelle, les cyber-touaregs préparent la révolution. Ils ont trouvé l'arme qui leur permettra de mettre fin à la domination des andromorphes, l'onde sonore Sigma, indiscernable par ces derniers qui provoque un dysfonctionnement critique de leur intelligence artificielle.
L'heure de la résistance a sonné.
Smitech Wesson revient sur Boxon Records avec le Sahara EP. Souvenez-vous du « Zöhre » EP (ref. Boxon041), supporté par Make The Girl Dance, Tom Deluxx, Neus, TKR, Acid Jacks, Dirty Disco Youth, Killing Me, Gooseflesh, The Boomzers, F.O.O.L, Nadisko, The Odword, Redial, Punx Soundcheck, Aerotronic, aUtOdiDakT, Gmorozov, Tsugi mag, DJ Mag, Funkateck Rec, radio Calade, radio Résonance et beaucoup d'autres…
Le Dj/producteur d'Istanbul revient avec le « Sahara » EP (ref. Boxon047), composé de quatre originales : « Sahara », « Utopia », « Rust » et « Stamina ». Déjà joue
́es au festival Tomorrowworld par Mr. Skeleton, les nouvelles productions de Smitech Wesson se renforcent en qualité et en puissance et sont de parfaites bombes pour le dancefloor.
Résolument futuriste, cet EP vous emmènera dans un désert cybernétique aux accents orientaux, frais comme une nuit d'été sous le ciel étoilé du Sahara. Smitech Wesson réalise là une véritable bombe qui vous retournera le cerveau et vous fera danser jusqu'au bout de la nuit.