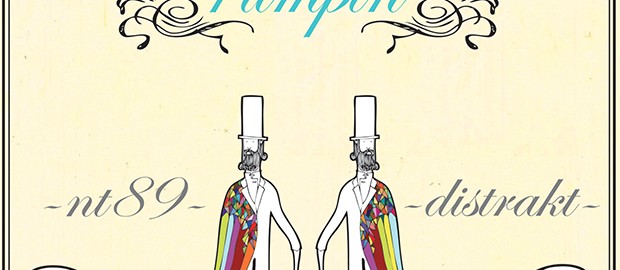 TRACKLIST
L'EP PUMPIN #Boxon017 est disponible sur :
(Click to buy)
Largement considéré comme le nouveau producteur italien avec Cécilé, NT89 a aussi été l'assistant studio de The Bloody Beetroots. Ces tracks ont été supportées et jouées par Tiga, Erol Alkan, Zombie Nation, Congorock, Shinichi Osawa, Arveene (juste pour en citer quelques-uns) et il a aussi remixé « The Whorm » de ZZT, « Worth It » de Zombie Nation et « Mind Dimension » de Tiga.
Maintenant il s'agit du EP « Pumpin' », qu'il a co-produit avec l'australien Distrakt ; il contient aussi deux remixes de GTRONIC et de BeatauCue. Déjà supporté par : Kissy Sell Out (BBC Radio1), Tommie Sunshine, Hostage, Steve Aoki, Erol Alkan, Brodinski, Fake Blood, etc., cet EP est lourd. Recto cover credits
: Ecran Family Crew. 2009.
Also, we got some nice feed-backs from:
Far Too Loud : « Wow. Loving both the GTRONIC and BeatauCue remixes. Will def be supporting this release. Cheers! »
Maelstrom : « Le remix de Beataucue est mortel. »
Malente : « Great package no doubt. I play the Beataucue Remix. NT89 Remix is dope too. »
Niko (Kiez Beats): « I love the whole Pack and the BeatauCue Remix is most bouncing, real Club banging Sound

»
Johan Blende : « Cheers for the promo, rather like the BeatauCue remix. Definitely my pick. All best. »
Electric Soulside : « Yeah, massive pack guys!! The BeatauCue rmx is a Dancefloor Killer! Full support from Electric Soulside (Potty Mouth / BugEyed). »
Captain (Radio Nova Bordeaux) : « YEP ! Et un ou deux titres Boxon dans mon mix de ce soir au Saint-Ex… Keep it boxonified ! »
André Dalcan : « Great new Boxon !!! The original is my best!!! »
Jo Kira (Radio Frequency FM, UK) : « Wow, this is one of my favourite Boxon releases!!! It is all about the GTRONIC remix for me: that track is blowing up my sets. Also got to bigup the BeatauCue and Original mix… Duty!!! Thank you. »
Pete Carvell (IDJ Magazine) : « Nice one… Wicked package… Will be reviewing and supporting

»
Butter Party (Trickery Collective) : « Thanks for sending this through – all tracks demonstrate some wicked percussion and synth-work, but the BeatauCue remix takes the cake, will be playing this out for sure!

»
Dj Prosper : « Grosse bombasse ce maxi chez Boxon. Les trois version s me plaisent, et du coup je les jouerai toutes les trois.«