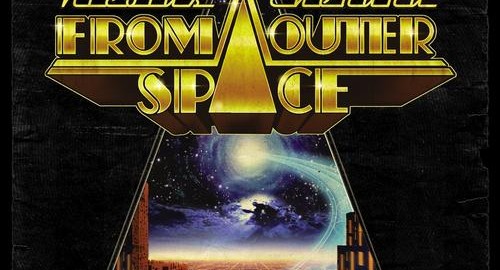 TRACKLIST :
1. Parallelism (Original Mix) (6:35)
2. Do Not Educate (Original Mix) (4:18)
3. The Path (Original Mix) (3:24)
4. Parallelism (Electroluxe Family Remix) (6:38)
5. Do Not Educate (Racontage Remix) (7:08)
L'EP From Outer Space #AF20 de l'artiste Nicolas Chenard est disponible sur :
(Click to buy)
For its 20th release, Absolut Freak Records is proud to present the much expected \ »From Outer Space\ » by NICOLAS CHENARD. Known with \ »Thriller Express\ » and its remix by John Lord Fonda in 2006, the first signed artist of the label is back with a magical project and a very special artwork made by The Zonders. The vinyl EP starts with \ »Parallelism\ », an ultimate tribute to the rave anthems, with its massive spacey disco loop and strings. Already a classic! On \ »Do Not Educate\ », he rocks with his GameBoy and shows his taste for 8-bit synthesis. Then, \ »The Path\ » reveals his singular melodic genius. The introduction takes you on a fantasy journey with hypnotic organ and flutes, before rolling an electro monster with killer pads. Back side, the banger crew from South of France ELECTROLUXE FAMILY gives a monumental remix of \ »Parallelism\ », with a perfect shady introduction and a baroque concerto in the break. At last, the stunning French band RACONTAGE offers a new demonstration of their amazing skills (after their EP on the AF18), with a huge remix of \ »Do Not Educate\ ».