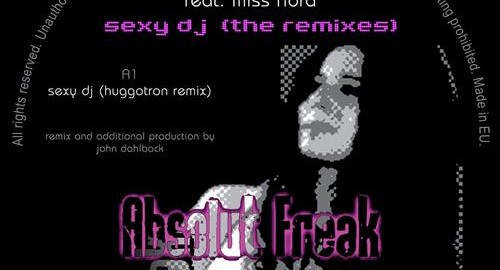 TRACKLIST :
1. Sexy DJ (Huggotron Remix) (5:58)
2. Sexy DJ (Nicolas Chenard Remix) (6:04)
3. Rock Your Body to the Beat (Original Mix) (5:32)
Le single Sexy DJ (The Remixes) [feat. Miss Flora] #AF04 de l'artiste Frederic De Carvalho est disponible sur :
(Click to buy)
After the success of \ »Sexy DJ\ » on Bodytalk with a great remix by Kiko, FREDERIC DE CARVALHO & MISS FLORA are back with new remixes of their famous track on Absolut Freak Records. First one by the Swedish phenomenon John Dahlback as HUGGOTRON who brings a dirty sound in a terrible freaky version. Back side, NICOLAS CHENARD gives a top remix in his own style with Sci-Fi influences. Then, \ »Rock Your Body To The Beat\ », a new original track by Carvalho & Flora, calls to dance with a pure clubby and melodic sound.