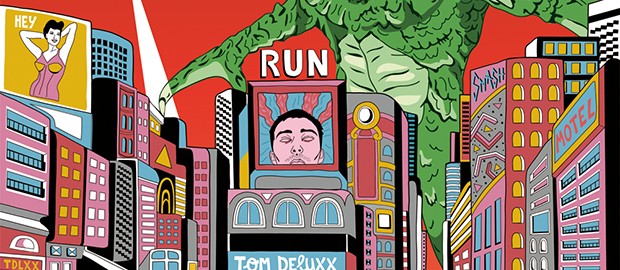 TRACKLIST
L'EP RUN #Boxon021 est disponible sur :
(Click to buy)
TOM DELUXX (Bordeaux). Premier artiste Boxon et moitié du duo Just A Band, Tom Deluxx est un dj/producteur qui jouit
d'une solide réputation sur la scène électronique internationale. Ayant assuré avec brio les premières parties de grands pontes comme Justice, The Bloody Beetroots, Para One, Boys Noize ou SebastiAn, il tourne actuellement dans les meilleurs clubs européens. Son prochain EP, intitulé « Run », est prévu pour avril 2010, sur son label maison Boxon Records.
A l'écoute du titre "Run" de Tom Deluxx, on est immédiatement saisi par son côté obscur. Avec ce morceau très percutant, l'artiste bordelais démontre une fois de plus son talent en tant que compositeur de musique électronique. Ayant su réunir tous les ingrédients les plus actuels dans sa nouvelle production, qu'il a agrémenté à l'aide de vocaux « hip-hop » bien traités, « Run » donne automatiquement l'envie de danser. Déjà comparé au son de The Bloody Beetroots et de Justice, l'électro de Tom Deluxx est mélodique, parfois lourde, et surtout très efficace. Frenchy techno + hype sensations.
La sortie vinyle (et digitale) inclus le puissant remix des Cyberpunkers, qui donne un rendu de la track plus Dancefloor. Présent également sur la galette noire: le morceau « Reactivate ». Enfin, tu peux visionner le video-clip réalisé par l'équipe de Sélim Bentounes (production: Boxon Records).
Supported by : Will Bailey, Larry Tee, Malente, The Bloody Beetroots, Tai, Cyberpunkers, The Shoes, Street Life Djs, Human Life, Far Too Loud, Designer Drugs, South Central