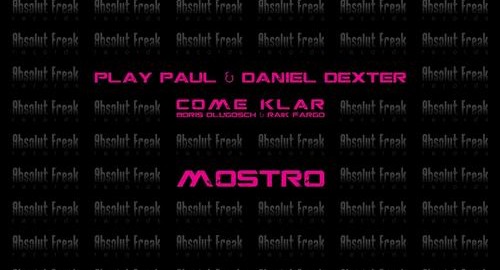 TRACKLIST :
1. Mostro, pt. 1 (Original Mix) (6:02)
2. Mostro, pt. 2 (A.k.a. Boris Dlugosch & Raik Fargo) (4:23)
3. Mostro, pt. 3 (A.k.a. Boris Dlugosch & Raik Fargo) (4:52)
Le single Mostro #AF14 des artistes Play Paul, Daniel Dexter, Come Klar est disponible sur :
(Click to buy)
\ »Mostro\ » is the project of 4 electro superstars, only for Absolut Freak Records. On \ »Mostro 1\ », the French wonderboy PLAY PAUL, mainly known for his works on Kistune, Craft Music and Gigolo (\ »Lalaland\ »), meet DANIEL DEXTER, member of the German crew Acidkids which also appeared on eminent labels such as Exploited or Television Rocks. They give a dynamic and spacey electro sound with fine synths. A must have! Back side, the club legend Boris Dlugosch and Raik Fargo from Hey Today! (Kitsune) are COME KLAR and give with \ »Monstro 2\ » an explosive tune with a freaky bassline and fluo pads on a massive compression!