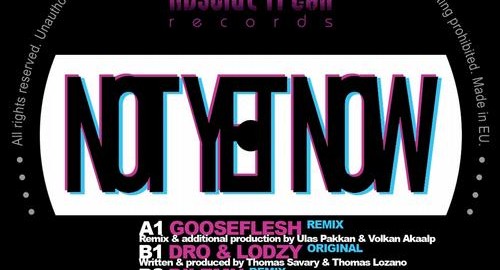 TRACKLIST :
1. Not Yet Now (Gooseflesh Remix) (4:13)
2. Not Yet Now (Original Mix) (3:39)
3. Not Yet Now (Dilemn Remix) (4:58)
Le single Not Yet Now #AF13 des artistes Dro & Lodzy est disponible sur :
(Click to buy)
DRO & LODZY are 2 young French boys with strong ambition, first by signing their first EP on Absolut Freak Records, then by being remixed by the most exciting producers of the moment: Dilemn and Gooseflesh. It starts with the massive remix of the Turkish superheroes GOOSEFLESH, which alternates breakbeats and trashy guitars. Back side, the electric original version of \ »Not Yet Now\ » reveals the promising talent of the two kids. At last, the French sensation DILEMN, well-known for his works on Boxon, Turbo and Boysnoize, makes it dirty & absolutly freaky!