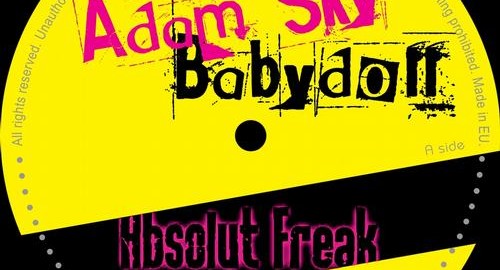 TRACKLIST :
1. Babydoll (Original Mix) (5:39)
2. Babydoll (Frederic De Carvalho vs Tristy Nesh Remix) (5:12)
3. Babydoll (Fan Erhalder Remix) (7:55)
Le single Babydoll #AF11 de l'artiste Adam Sky est disponible sur :
(Click to buy)
Absolut Freak Records is proud to present its new signature, the legendary rave veteran ADAM SKY. After his successes on Kitsune, Exploited and Crosstown Rebels, the author of the planetary hit \ »Killer\ » featuring Seal in the begining of the 90\'s is back with \ »Babydoll\ », a massive mutant electro track mixing acid basslines, pop melodies and trancey pads with maestria. Back side, FREDERIC DE CARVALHO meets TRISTY NESH for an exclusive shock, giving a strong electro-house remix. Then, the Swiss sensation FAN ERHALDER (author of the famous \ »Samantha Fox\ ») brings his unique groovy touch in a solid dancefloor version with Sci-Fi influences.